J. Bryan Dexter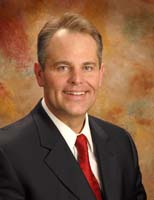 Bryan Dexter is originally from Provo, Utah, but spent much of his early life in Paradise Valley, Arizona, graduating from Brophy College Preparatory. He lived in Italy for two years doing volunteer church work before graduating from Brigham Young University, where he majored jointly in Psychology and Italian.
Having discovered a passion and aptitude for language, he taught an Italian class as an undergraduate at BYU. While attending law school, he served as a legal writing assistant and completed a paid internship at Land of Lincoln Legal Assistance Foundation, representing clients with family law and property matters.
Bryan co-founded DexterLaw after graduating and being admitted to the Utah State Bar in 1995.  He has extensive legal experience; his varied practice includes estate planning, real property and civil matters, as well as bankruptcy.
Bryan is committed to and values community service, and has served as Chairman of the Board of Kids on the Move, a federally funded nonprofit serving challenged children and their families.
He is a member of the Utah and Colorado State Bars (inactive in CO) and is admitted to the United States District Court and Bankruptcy Courts for the District of Utah. As a skilled problem solver, he enjoys the inherent rewards that accompany the achievement of superior results. Bryan cultivates and cherishes his relationship with his clients, and takes seriously the trust and confidence they place in him.
Bryan lives in Utah Valley with his wife and six children. His interests include traveling, firearms and exploring, and his preternatural fervor for mountain biking.